Game-based Learning Case Study — Mahindra Group
Meet Mahindra Group
Mahindra Group is a global federation of companies with operations in over 100 countries. The group has a presence in aerospace, automotive, energy, finance and insurance, information technology, hospitality, real estate and mobility to name a few. They are the world's largest tractor brand by volume, India's largest utility vehicle manufacturer, and several of their businesses enjoy leadership positions in the industries in which they operate. With a large workforce spread across the world, the organisation is constantly pushing to provide training and development programs to help executives gain a deeper understanding of the operational environment and hone their leadership skills.
The Requirement
The Mahindra Group has always positioned development as a continued learning process that helps employees grow through the Mahindra Leadership University.
Under this Corporate University, a number of domain academies operate - each one focused on skilling employees in their domains, be it Finance, Information Technology, HR etc. The HR Academy, under whose guidance this game was developed, wanted to employ a tech-based interactive format to make learning more participative, realistic, relevant and delivered digitally, at the employees convenience.
The learning is for their target audiences - first-time or junior managers who had recently moved from individual contributors to people managers. While they all had undergone different training modules in the various group companies, the Academy wanted a comprehensive module to highlight and reinforce the processes to be followed in leveraging human capital and the behaviours needed to effectively manage people and teams. They required a novel delivery approach to ensure high adoption, absorption and retention.
The Process
MLUs HR Academy partnered with Talent Litmus, a platform for game-based assessments and learning, to create a game to reinforce key areas for people management - recruitment, compensation, performance management, learning & development and employee engagement. The objective was to reinforce, in managers, the processes and behaviours needed to excel in these areas through gameplay. In addition, for feedback to be available on where each manager needs additional learning inputs and guidance (via a customized analytics dashboard). The insights generated would help learning teams within the Group understand where managers stood in all these key areas and plan interventions accordingly.
The Solution - Manager Ready
The result was — Manager Ready , an exciting role-playing game where the player is entrusted with the task of guiding 6 managers in making decisions in a challenging year for EarthX. Through their journey with the 6 managers from different fields, players learned critical aspects of team management such as setting and cascading goals, providing constructive feedback, recognising team members and recruiting the right talent. While participants were engaged through a mobile and desktop-based game, organisations gained an understanding of where their managers stand through analytics. The approach allowed for minimal resource requirements and effective learning.
The Result
With an engaging process, over 84% of participants said the game met and even exceeded their expectations for learning. Since the process was digitally-driven, companies in the Mahindra Group could reduce their process and resource requirements through a scalable and customised game-based solution.
The Feedback
The innovative learning experience was well appreciated, and many participants mentioned the unconventional yet efficient use of choices in the game. As we gathered the feedback in terms of ratings, it was clear that the majority of participants found the experience engaging, helpful and constructive.
The HR Academy and Talent Litmus were able to execute a more engaging, compelling and data-driven training program that was well-received by participants across Group companies.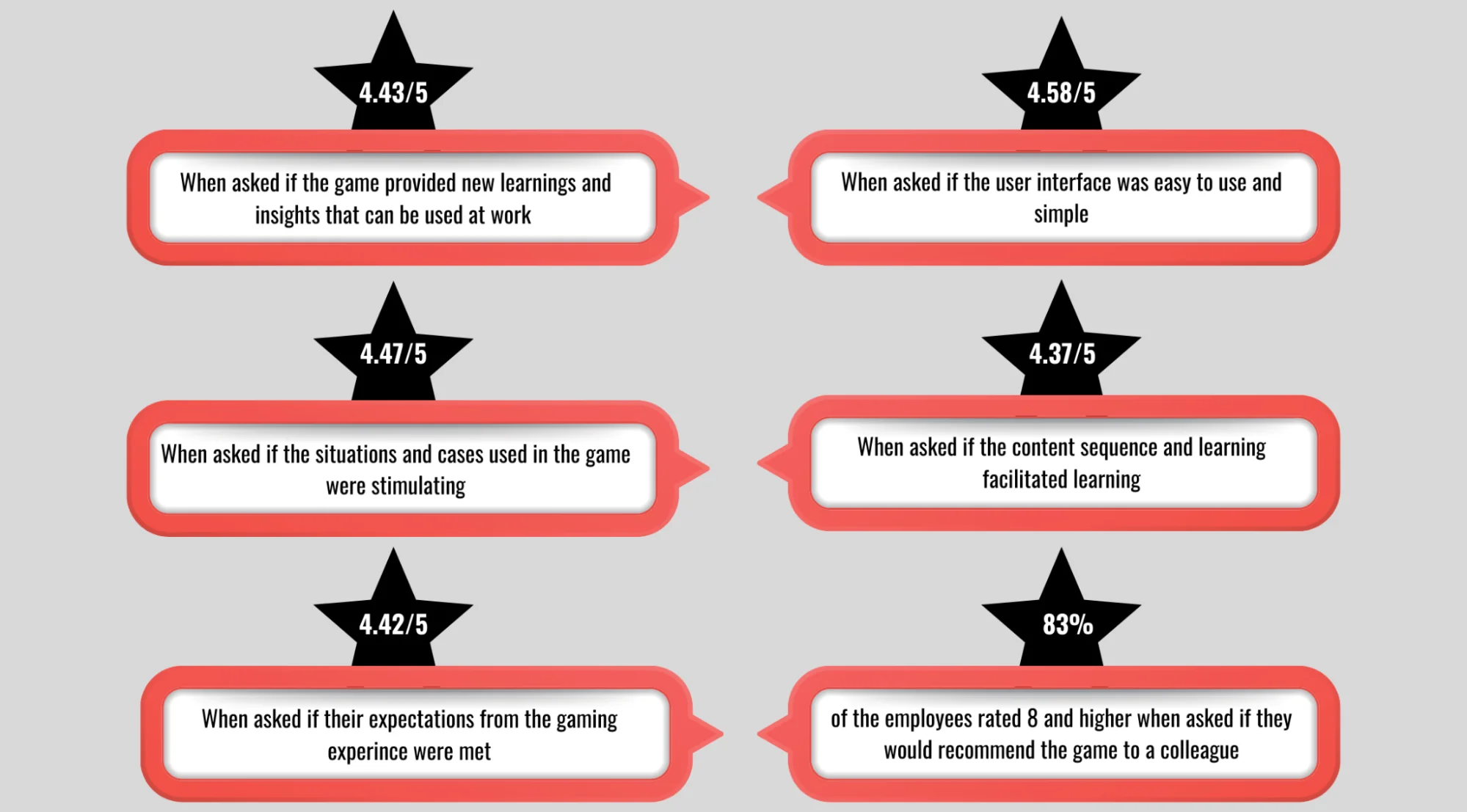 Participants Speak
The choices were very close but had a far reaching impact. Recognizing employees has to be a tailored one is the most valuable aspect I learnt.

What I liked the most was the selection of real situations a manager has to face in the real world. Explanations given for each answer whether right or wrong are most valuable because it helps us to understand the best approach.
From The Client's Desk
"Our objective was to provide people managers with a fun, engaging way to refresh leadership concepts and practice in typical situations they would face in day-to-day operations. The game is interactive, each screen is short, specific and relatable, the situations are typical and occur so often that managers recognise and realise when they play the game. Talent Litmus has done a wonderful job of bringing the idea to life – of creating an easy to operate, energy-inducing format for effective learning with high completion rates." — Sherna Seldon (Lead, HR Academy, Group HR L&D)
Invest In New-Age Training Solutions With Talent Litmus
Gamified training creates an engaging and immersive environment for employees and promotes active learning and effective knowledge transfer. Gamification is now changing major HR processes, including hiring, onboarding and training. With Talent Litmus, you can change how you execute your HR processes and make way for groundbreaking, data-driven game-based solutions.
Leverage the power of AI with Talent Litmus, and get solutions tailored to your business goals. Enable game-based training with Talent Litmus and join renowned organisations such as Ashok Leyland, Dabur, HDFC Bank, TVS and Asian Paints.
Contact Us Today!